Alessandra Albarello interviews Pedro da Silva for the Italian magazine EYEBOOK 
Pedro da Silva, founder of the company, talks about the genesis and the spirit of his creative audacity.
Long version at the bottom.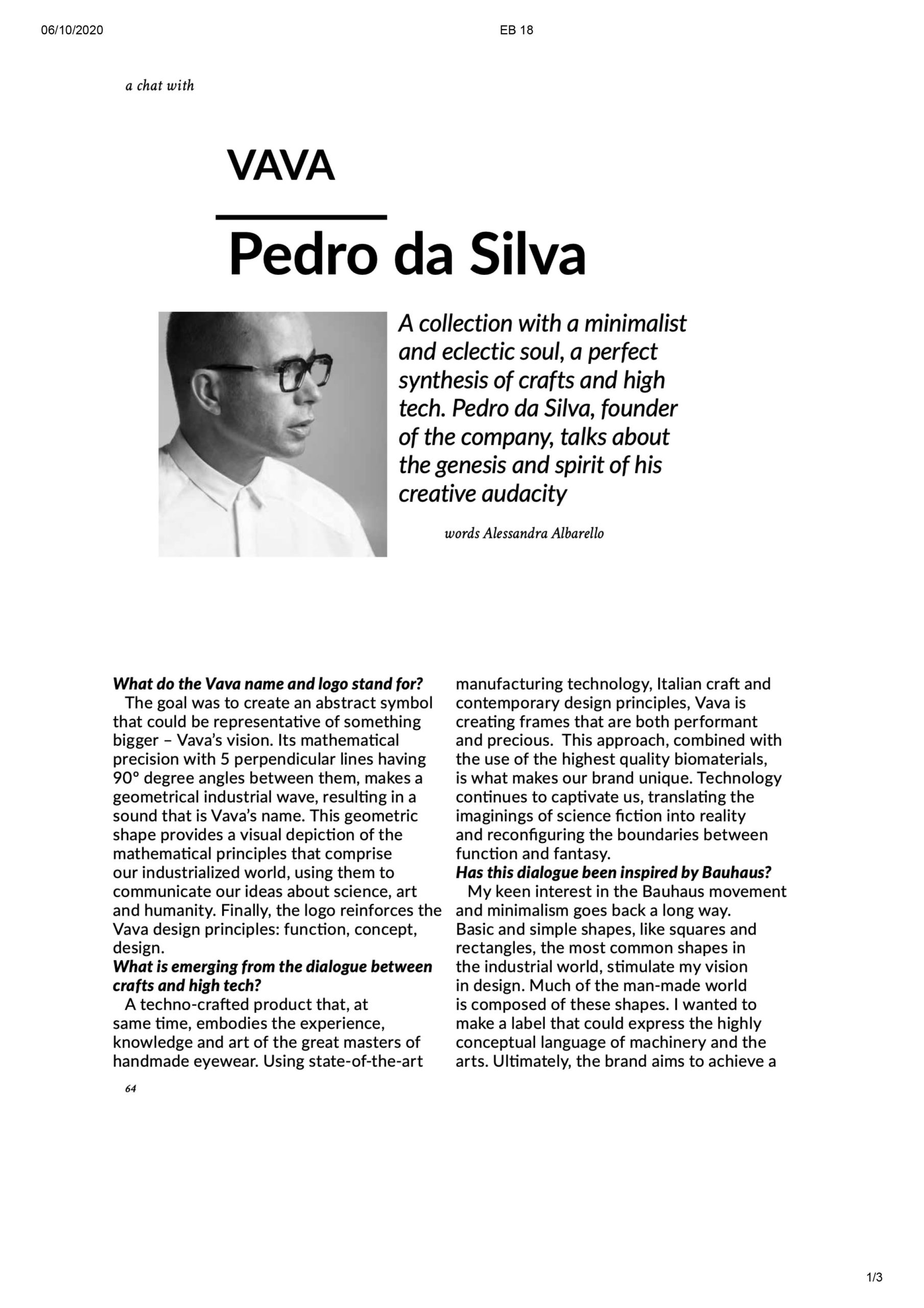 INTERVIEW LONG VERSION
1. What do VAVA name and logo stand for?
The goal was to create an abstract symbol that could be representative of something bigger, VAVA's vision.
A very simple geometrical symbol that covers up the importance of VAVA's DNA, seducing viewers and making them curios about the brand. Its mathematical precision with 5 perpendicular lines, with 90º degrees angles between them, makes a geometrical industrial wave resulting in a sound that is VAVA's name. This geometric shape provides a visual depiction of the mathematical principles that comprise our industrialized world using them to communicate our ideas about science, art and humanity. Finally, the logo reinforces VAVA design principles: function, concept, design.
2. What is the new VAVA eyewear collection emerging from the dialogue between crafts and high tech?
A techno-crafted product that, at same time, embodies the experience, knowledge and art of the great masters of handmade eyewear. Using state-of-the-art manufacturing technology, Italian craft and contemporary design principles, VAVA is creating frames that are both performant and precious. This approach, combined with the use of the highest quality biomaterials, is what makes our brand unique.
Technology continues to captive us, translating the imaginings of science fiction into reality and reconfiguring the boundaries between function and fantasy. Of an exquisite nature, our eyewear invites you to participate in a forward-thinking movement.
3. Has this dialogue been inspired by Bauhaus?
My keen interest for the Bauhaus movement and minimalism goes a long way back. Basic shapes played a pivotal role in Bauhaus ideas and the way they taught art. Basic and simple shapes, like squares and rectangles, the most common shapes in the industrial world stimulate my vision in design. Much of the man-made world is composed of these shapes.
I wanted to make a label that could associate the highly conceptual language of machinery and the arts. Ultimately, the brand aims to achieve a contemporaneous basic look and at same conceptual and timeless.
4. From the post-industrial city of Detroit to Berlin, from Bauhaus to Sol LeWitt, from Metropolis movie to techno-music… What is your cultural journey and philosophy behind your creations?
I have been for long fascinated and inspired by the Detroit post-industrial landscape. It's music richness and legacy also inspires me a lot. Obviously its unique Techno scene, but also Jazz and Blues forged the basis for future generations of musicians in Detroit. On the other hand I always had a great connection with Berlin. The mood of the city, the music scene, the openness of the people, the cultural scene, the post-industrial feeling, the green areas.
Detroit and Berlin are both part of the industrial revolution. They symbolize the cultural and economic domination, as well the collapse, and the rebirth of society. VAVA is amazed by the futures of these two great cities and looks to help share their vision for the 21st century.
On the other hand I'm very much inspired by science fiction films, like for instance Metropolis, Blade Runner and Space Odyssey, that results from an excessively one-sided belief in technological progress. I'm also very fond of the Bauhaus and Minimalism, I was also inspired by these two aesthetic movements.
5. Raceless, genderless and ageless. How can you achieve these characteristics through shapes, materials, colors?
VAVA envisions a future that is raceless, genderless and ageless using terms like equality and diversity. We translate this equality in a unique way by creating a neutral figure. This neutral figure helped us to create a minimal and monochromatic silhouette that is translated in eyewear as an minimalistic and architectural piece. This philosophy is naturally affiliated with monochromatic primary shapes in primary and neutral colors. An influx of clean and streamlined shapes made of techno materials in tandem with people's space-age imaginary and science-fiction.
6. And what about eco-sustainability?
VAVA designs for a conscious future, a world of high-tech solutions that leverages all the possibilities of technology to make zero waste and eco design possible. A post-industrial world of techno-craftsmanship.
And this is why we pride ourselves on avoiding mass production. This means that we have an eco-friendly fabrication using high quality, sustainable materials. VAVA is using exclusive Mazzucchelli "eco-friendly" line M49. Another key aspect of our product is the use of Barberini glass lenses, a product which is 100% recyclable. Finally, VAVA hinges are made from aluminium, a super light material with great physical and mechanical properties. The production waste can be easily melted to make new aluminium.
7. Details make the difference. What are the most innovative technical details of your new collections (hinges, lenses etc)?
It's a difficult question because in my opinion this season we made an exceptional collection full of amazing details.
But if have to select a particular technical detail I would mention our new aluminum hinge. The new cubic hinge is half of the size of the previous one giving a sense of additional finesse and delicacy to the frame. The aluminum is produced using a cutting-edge industrial milling process. Spring aluminum hinges with acetate temple tips while further contributing to soften the feeling it also improves adjustment of the spectacles.
8. How do you see the future between "white" and "black"?
VAVA imagines a future between two contrasting extremes, black and white. This vision is transposed into VAVA's white and black labels.
The White Future, a gleaming white plastic, aseptic future is a darkened vision that serves also as a warning that technology has the power to dehumanize society. In the dark, grim world of the Black future, human society must utilize technology to rise up to and oppose oppressive, authoritarian power to save the biosphere. A movement by the people will emerge to create a raceless, genderless and ageless eco – world.
Within these borders the future reality lies.
9. Your several collaborations include icons like the architect Alvaro Siza. Have you planned other important collaborations for the near future?
We are pleased to announce that at MIDO 2021 we will be showcasing two very important collaborations, one with a Japanese Architect and another one with a German producer and Dj. Both of them have been pushing the boundaries of architecture and music.
10. In an emotionally vulnerable moment like this, do you still believe that minimalism can exclude romanticism?
Many seem to think that embracing minimalism means be less romantic. Believe it or not, romantic looks can also qualify as minimalist, helping you achieve that clean, balanced silhouette still looking romantic.
Most important is that brands must hone an authentic voice which reflects the time and inspires people with new ideas and new ways of looking at things.
In an environment of high-speed culture and ecstasy of consumption VAVA minimalism represents deceleration, purism and metaphysics. The structure and design of the eyewear is not just physical – think of pollution, dust, UV, etc. – but creative. It permits the wearer the spiritual space to focus on a 'mind-over-matter' asceticism and a personal dose of reinterpreted perspective.